The Neon Museum and Papillon Grand Canyon Helicopters 
now offering Neon Night Flight Spectacular
Fly above the neon lights of Las Vegas, then see them up close at The Neon Museum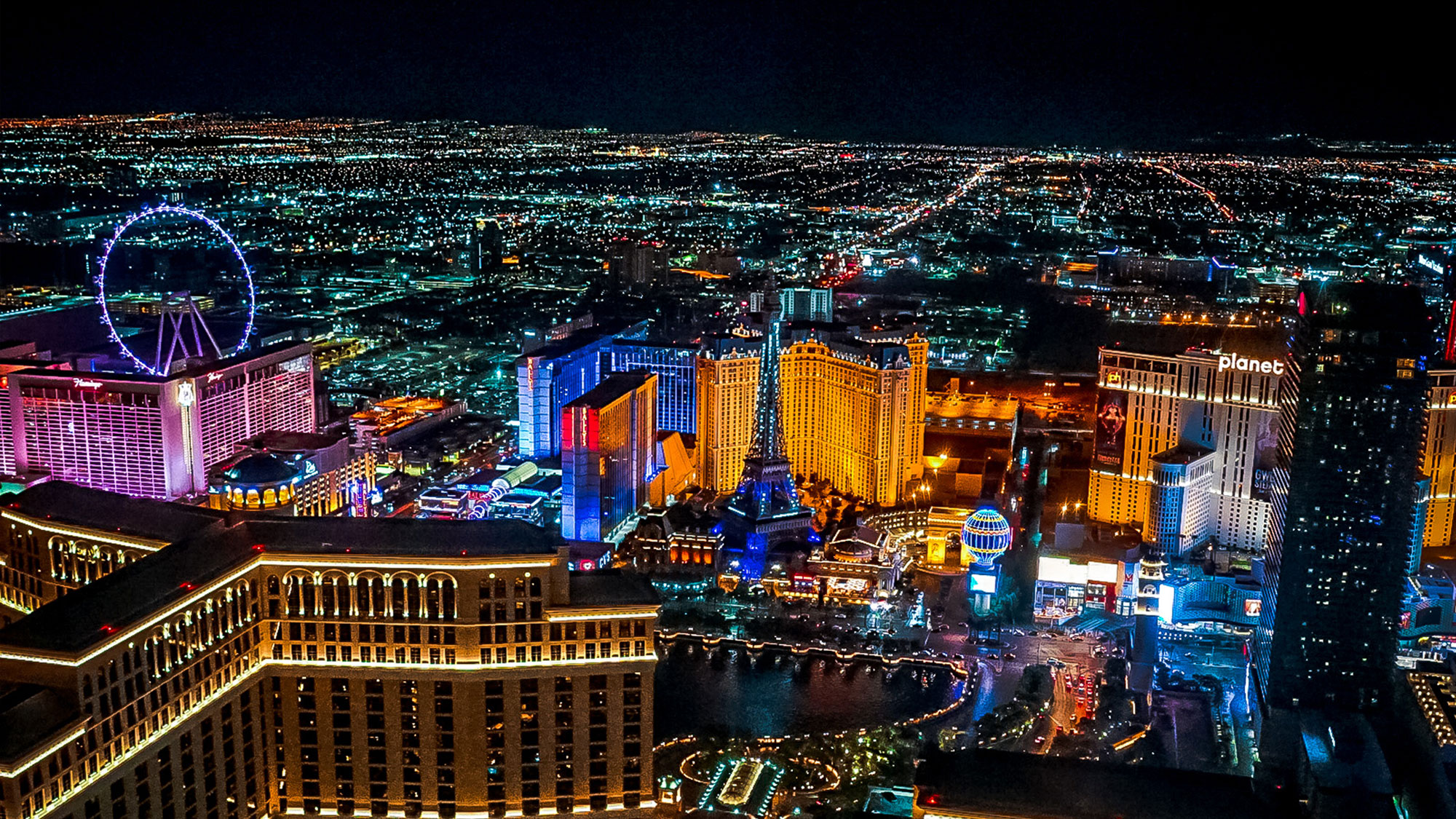 LAS VEGAS (March 21, 2022) – The Neon Museum is partnering with Papillon Grand Canyon Helicopters to offer an exciting neon experience, in the air and on the ground. The new Neon Night Flight Spectacular takes guests on an unforgettable exploration through the history and splendor of the iconic sights that Las Vegas is known for - its neon lights.
 The journey begins with luxury transport from most Las Vegas hotels to Papillon's VIP terminal. Guests will board an EcoStar helicopter for a memorable flight high above the sparkling lights of the Las Vegas Strip and Downtown. After the helicopter tour, guests see the neon lights up close while they learn more about the unique history of Las Vegas and its iconic art form on a 45-minute guided tour at The Neon Museum. 
The museum's Neon Boneyard showcases more than 250 vintage Vegas signs with nearly two dozen reilluminated and the others dramatically lit from the ground on evening guided tours. The night concludes with a tour of the museum's North Gallery and its immersive 360-degree audiovisual spectacular, Brilliant! Jackpot, an augmented reality experience that reilluminates unrestored signs and incorporates archival video and an iconic soundtrack to transport guests directly into Las Vegas' history.
"Papillon Helicopters is proud to partner with The Neon Museum team to bring this experience to our guests," says Irit Langness, senior vice president of sales and marketing, Papillon Grand Canyon Helicopters. "This tour takes guests on a unique journey - exploring present-day Las Vegas aboard a luxury helicopter followed by a deep dive into the city's rich history with The Neon Museum. It exemplifies both culture and adventure and is a must-do while visiting the neon capital of the world."
"The Neon Museum is thrilled to offer the Neon Night Flight Spectacular, which showcases the majestic lights that Las Vegas is known for, in the most unforgettable way possible," said Aaron Berger, executive director of The Neon Museum. "Starting with a thrilling helicopter ride to see from the sky the neon lights that welcome guests daily on the Strip and Downtown, then returning to the ground to see up close vintage Vegas neon signs that chronicle the city's past, guests will leave awe-struck and with a greater appreciation for our history, culture, and unique art form." 
The Neon Night Flight Spectacular is offered for $179 per person every night, seven days a week, with times varying throughout the year. The experience lasts approximately 3.5 hours. Papillon Grand Canyon Helicopters will provide transportation to the helicopter terminal and transfer to the Neon Museum. Guests will be responsible for their return transport following the Neon Museum experience. 
For more information including tour schedule and to purchase tickets, please visit: https://www.papillon.com/las-vegas-tours/helicopter-air-tours/neon-night-flight-spectacular/. 
ABOUT THE NEON MUSEUM:
Founded in 1996, The Neon Museum is a non-profit 501(c)3 organization dedicated to collecting, preserving, studying, and exhibiting iconic Las Vegas signs for educational, historic, arts and cultural enrichment. Fully accredited by the American Alliance of Museums (AAM), The Neon Museum has been ranked No. 1 in Las Vegas Weekly's list of "Twenty Greatest Attractions in Las Vegas History," Nevada's "Best Museum" by MSN, one of the 10 Best Museums in Las Vegas by USA Today's 10best.com, "One of the Top 10 Coolest Things You Didn't Know You Could Do" by Forbes.com, one of the "Top 10 Historic Spots in Las Vegas" by Vegas.com; one of "15 Most Fascinating Museums in the U.S." by VacationIdea.com; and earns a consistent 4.5 out of 5 rating on TripAdvisor. On its 2.27-acre campus, The Neon Museum has an outdoor exhibition space known as the Neon Boneyard; the North Gallery, home to the immersive audiovisual experience "Brilliant! Jackpot" which uses technology to re-illuminate more than 40 non-operational signs; and its visitors' center inside the former La Concha Motel lobby. The museum collection also includes nine restored signs installed as public art in downtown Las Vegas. Public education, outreach, research, and arts conservation represent a selection of the museum's ongoing projects. For more information, including tour schedules and tickets, visit www.neonmuseum.org. Also follow @NeonMuseum on Facebook and Twitter and @theneonmuseumlasvegas on Instagram. 
ABOUT PAPILLON GRAND CANYON HELICOPTERS
Founded in 1965, Papillon (French for "butterfly") Grand Canyon Helicopters is the world's largest and longest-running helicopter tour company. Papillon is the only helicopter tour company that flies the entire length of the Grand Canyon with bases in Las Vegas; Boulder City, Nev.; Grand Canyon West; Grand Canyon National Park and Page, Ariz. For more information, go to www.Papillon.com or call (702) 736-7243 and follow on Facebook, Instagram, Twitter and TikTok. (#IFlyPapillon). For downloadable high-res photos - click here, for videos – click here.